Energy Flow
Chakras are the energetic centers where we pull energy into our nervous system. Religions are meant to be cumulative on the planet. Knowledge of science and spirituality are intended to build upon each other rather than be locked into one belief system or the other. This chart depicts the relationship between the charkras and the religions.
As we understand who we are as spiritual beings, we realize that only part of us is avaliable to love. The other part of us is occupied with our unhealed emotional and spiritual blocks. As we clear our unhealed layers, more and more of who we are as spiritual beings becomes available to love here on the planet.
Emotions such as fear, anger and hate are low-frequency energies. Unconditional love is very high-frequency energy. As more and more of us becomes available to love, we are bringing more and more of God's unconditional love energy to the planet. The high-frequency energy of unconditional love negates the low-frequency energy of fear, anger and hate.
Spiritual Healing Prayer for inclusion in your prayers
Dear God,
Please guide me to my optimal spiritual healing path.
Please guide me to being a giver and receiver of unconditional love as taught by Jesus.
Please guide me to my full direct connection to the divine Father Mother God as taught by Mohammed.
In the name of all divine beings, Amen.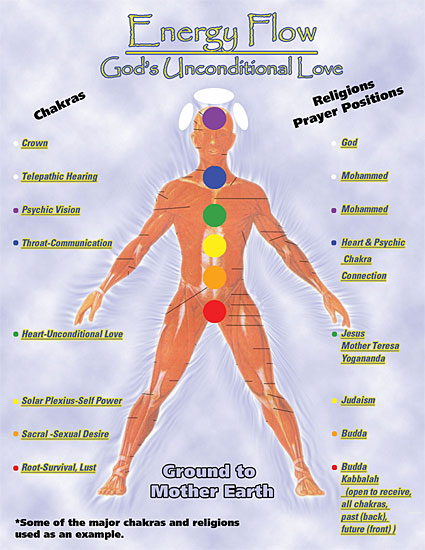 Please click on the picture above for a larger version.
| | | |
| --- | --- | --- |
| 8th Chakra | Crown | Connection to God and where we bring to the planet God's energy. |
| 7th Chakra | Ear | This is your spiritual hearing. The prayer position with the forehead to the ground as taught by Mohammed and the Islamic religion emphasizes God's gift to us to connect with him and all divine beings on and off the planet. |
| 6th Chakra | Forehead | Known as 3rd eye. This is your physic vision. The prayer position with the forehead to the ground as taught by Mohammed and the Islamic religion emphasizes God's gift to us to connect with him and all divine beings on and off the planet. |
| 5th Chakra | Throat | Energetic connection between the head and the heart so that we are operating in our heads from a place in our heart. This is an energetic connection that we are making in this lifetime. |
| 4th Chakra | Heart | Place of healing and unconditional love. Some of our greatest teachers of unconditional love on the planet are Jesus, Mother Teresa, and Yogananda. The Christian prayer position with hands at the heart emphasizes this chakra. |
| 3rd Chakra | Solar Plexus | Emphasis of this chakra is self-power. The Jewish religion emphasizes this chakra with a focus on our personal business skills and on our own ability to connect directly with God. |
| 2nd Chakra | Sacral | Emphasis of this chakra is sexual desire between partners in a love relationship. The mediation and prayer position with crossed legs sitting on the ground of the Buddhist religion emphasizes this chakra. |
| 1st Chakra | Root | Emphasis of this chakra is lust and survival issues. The mediation and prayer position with crossed legs sitting on the ground of the Buddhist religion emphasizes this chakra. The lower chakras are important to being grounded to Mother Earth. |